Sunday Team win their division
Posted in Club News by admin, on March 7, 2022.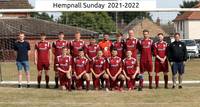 Our Sunday side, formed only at the beginning of the 2021-2022 season, have comfortably won the fourth division title with games to spare. At the time of writing, of the 17 league matches played, they have won 16, drawn 1, with a goal difference of 94.
This is a great achievement made possible by the leadership of Jame Bennett and Tristran Docherty, and an excellent squad of players, a number of whom play for the Hempnall Saturday sides.
All at the Club congratulate the boys, we hope their success grows.
Return to Latest News »