Race Night November 24th 2018
Posted in Fundraising on Nov. 26, 2018.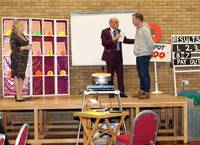 Over 80 people attended our annual fundraising Race Night, compered and managed by Ray and his team. As always it was great fun (and for some of us expensive!), and thanks go especially to Adam and Clare for running the bar, Lesley Kelly for her raffle management and providing a couple of good prizes, Lewis Bailey and Annette Pointer for raffle prizes, Patsy for the excellent raffle display, Chip Inn for the fish and chips, and lastly, but not least, the Race Sponsors and horse 'owners'. Race sponsors were Gobur Folding Caravans, Chip Inn, David and Annette Pointer, Hempnall Butchers and Delicatessan, Cunningham's Auto, Hempnall, Delf's Garage, Hempnall, AllParts, Hempnall, and Michael Ayton Plant Hire, Hempnall.
The evening provided both great entertainment and a good sum for our finances.
Return to Latest News »