Presentation Evening June 9th 2018
Posted in Club News by admin, on June 11, 2018. Last changed on June 11, 2018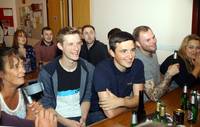 The annual Hempnall FC Presentation Evening was held on Saturday 9th June 2018, at Hempnall Village Hall. The lads, with their guests and partners, enjoyed an excellent social occasion, music suppled by Lewis Bailey, BBQ courtesy of the Secretary and the President.
After a few drinks and eats, Matt Oakley gave a short speech thanking everybody for the ultimately enjoyable season, where the first team struggled until the latter part of the season, when they comfortably retained their Anglian Combination D3 status. The Reserves, after a troubled season, stayed together, and will enter a Norfolk League for the forthcoming season under the management of Dan Roche. The Sunday team again thrived under the management of Billy Kelly, and are looking forward to their next season, this time in senior Sunday football. The team is thriiving and expects to improve still further.
The Presentation saw the following:
First team Manager's POY : Billy Kelly
First Team Players' POY: Taylor Davis
Reserve Team Manager's POY: Aaron Bradley
Reserve Team Players' POY: Jordie Batterham
Sunday Team Manager's POY: Lewis Bailey
Sunday Team Players' POY: Joint award to James Melton and Shaun Kelly
Saturday Top Scorer: Billy Kelly
Sunday Top Scorer: Jamie Ellis
Clubman of the Year: Lesley Kelly
Sunday Supporters' POY: Jame Melton
A special presentation of bouquets of flowers was made by the Sunday team to Lesley Kelly and Maddie Golder for their support throughout the season.
Additionally, the President, Steven Griffiths, thanked Adam Nelson for his sterling work running the hospitality on a Saturday, giving up a huge amount of time over the past five seasons. Adam has decided to retire to free up his Saturdays, and the club made a special presentation of a trophy, and several bottles of wine for him to enjoy on his less fraught Saturdays.
Pictures will be posted later today.
Return to Latest News »