Presentation Evening
Posted in Club News by admin, on June 2, 2019.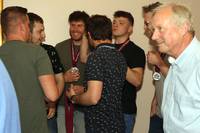 The Club held it's Presentation Afternoon / Evening at the Village Hall. It was well attended by players and families, who enjoyed a great BBQ cooked by Lora assisted by Jeanie, and a well stocked bar hosted by Lesley and Adam.
Thanks go to all those who helped on the day.
We were delighted to welcome John Turner, Secretary of the Central and South Norfolk League, who presented our Reserves with their promotion medals.
Presentation photos are on the Gallery.
Return to Latest News »