Pre-season friendlies
Posted in Club News by admin, on June 1, 2017. Last changed on July 20, 2017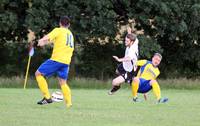 A number of friendlies are being arranged for all teams. Please keep looking at this post to keep up to date.
Home games Saturday teams
Hopton, Saturday 29th July, 2.30ko
Blofield, Wednesday 2nd August, 6.30pm ko
Scole, Saturday 5th August, 2.30 ko
Briston FC, Saturday 12th August 2.30 ko
Carlton Colville FC, Saturday 26th August 2017, KO time TBC, likely 2.30pm
Sunday Team home
Sunday 30th July, Hethersett Reserves, 10.30 ko.
Sunday 6th August, AG Athletic, 10.30am ko
Sunday 27th August, Woodton, 10.30ko
Away fixtures:
Sunday team - 13th August at Long Stratton, 20th August away at DCS Rapid.
Saturday teams:
July 15th, Ellingham FC, 2.30pm ko
July 26th, Easton, 6.20pm ko
July 29th v Wensum Albion, (at Felthorpe), 2.30pm
August 12th at Halesworth, 2.30pm
Wednesday August 23rd (Reserves), Carlton Colville Walmer Road, 6.30pm
Return to Latest News »