Hempnall FC Club Constitution
Posted in Club News by admin, on June 25, 2019. Last changed on June 25, 2019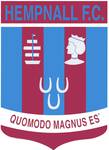 At the club AGM, it was agreed to change our Constitution to include a section relating to social media. We, at the Club, consider social media should be used sensibly by club members (players, managers, committee members, life members as defined in our Constitution) in relation to Club matters.
The Constitution document can be requested by application to the Club Secretary via the website Enquiries.
The wording of the new section is as follows:
'8. Social Media
A Club Member is obliged not to discuss club finances or committee decisions / minutes on social media, neither shall they discuss matters on social media that may cause harm in any way to the Club, or bring the Club into disrepute. This will include racist or personal verbal abuse to others.
Should a member fail to observe these requirements, the member can be expelled from membership at a Committee Meeting, and if appealed, at an Extraordinary General Meeting by a majority of voting members at the meeting.'
Return to Latest News »