Ball Sponsorship
Posted in Club News by admin, on Dec. 8, 2020.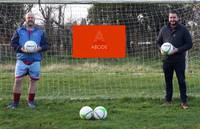 The erection of a substantial housing development is commencing to the west and south side of the playing field, directly adjecent to our pitch. This inevitably means that we will lose balls during a game - something that in the past has not been a problem, as we had access to the fields behind and to the side to retrieve them. Going forward, this will be a significant issue as there is a heras fence bounding the entire building site.
In the short term, the developer, Abode, has kindly purchased several match balls on our behalf. Many thanks to Grant Keys, Managing Director of Abode for their kind gesture.
Return to Latest News »