Sunday League Presentation
Posted in Fundraising by admin, on May 22, 2022.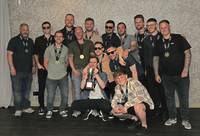 The Sundaty League presentation was held at the Oaklands Hotel in Norwich on Friday 20th May 2022. The lads won the Division at their first attempt and are looking forward to the 2022-2023 season.
Tristran Docherty and James Bennett have led the team superbly, and are intending to continue leading them on to greater things.
A few photos are on our Gallery.
Return to Latest News »