Reserves re-forming
Posted in Club News by admin, on June 1, 2017.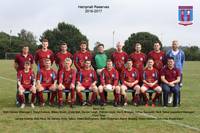 We are extremely pleased to announce that we are able to enter a reserves team into the Lowestoft and District League under the management of Jason Haze and Andy Cranmer.
Training commences 10th June at 10.00am, all current and new players welcome.
These are exciting times for the club and we are very happy to welcome both Jason and Andy to our club, we wish them every success.
Return to Latest News »