New Chairman elected
Posted in Club News by admin, on June 10, 2017.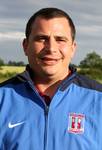 We are delighted to announce that club stalwart Matt Oakley has been elected Club Chairman with immediate effect.
Steven Griffiths remains Club President.
Thanks go to Steven for 'holding the fort' for so long, (having fulfilled both the Chairman and President roles), and Steven is very happy to be handing over to the most loyal of Hempnall personnel.
Return to Latest News »