Hempnall FC Covid self assessment guidance
Posted in Club News by admin, on Aug. 5, 2020. Last changed on Aug. 6, 2020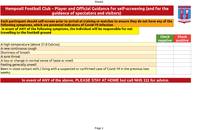 We at Hempnall FC wish to do everything we can to avoid and spread of Covid and to allow grassroots football to continue.
We have completed a risk assessment in this regard, and will be ensuring suitable social distancing measures are adopted for our spectators.
We need to ensure that everybody is kept safe, and will be complying with FA guidance.
Attached is our current guidance in relation to the assessment of the known symptoms of Covid-19. Whilst it is common sense not to attend if you know you are unwell, our official guidance document is attached.
Return to Latest News »